Professional Design - Saker silicone caulking tools could combine 3 functions into 1, including an internal angle scraper, flat angle scraper, and silicone smoother, It can help you remove the seal and re-sealing and repair the gap and clean the residual glue easily.
Durable Material - Saker 3-in-1 caulking tool has a sharp hard stainless steel blade for long-lasting strength removal; A nice silicone trowel for the removal of bumps and dents surface; White silicone pads for smooth application of new silicone!
Effectiveness - Saker 3 in 1 sealant finishing tool grout remove scraper with versatile tools with many uses, easy to rip the old caulk and smooth the caulk well.No need for masking tape, it is convenient and quick to use and save time.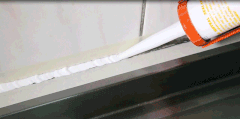 EASY TO USE & CONVENIENT - Using the tool, saves half the time to remove the dried caulk.
IDEAL TOOL - Ideal for corners, showers, and windows. The smart dimension is applicable for interior and exterior caulking.
Package Includes:
1 x Saker Silicone Caulking Tools